Flatbed Tow Truck
Flatbed and Rollback Towing Service
Detroit Flatbed Tow Truck Service 
Flatbed towing is now the most popular way of towing vehicles these days. A flatbed tow entails a trailer equipped with either a flatbed or a twin-axle flatbed in its back end to tow different vehicles from one place to another. With flatbed towing, there are numerous advantages, and it is now almost the sole preferred towing method by towing companies worldwide. If you need a flatbed tow, call us at 313-209-3143.
There are Several Reasons for a Flatbed Tow Truck Service
The first reason is that it can transport different vehicles such as semi-trailers, low-loaders, haulage vehicles, and big rigs. The second reason is that this type of towing is more convenient as they can easily tow very heavy trailers. Another advantage of flatbed towing is that they are faster than other methods because the vehicles do not stop when in motion. This enables the driver to travel at higher speeds for longer distances than before. In addition, flatbed towing trucks provide the drivers with maximum flexibility since different types of trailers can be toted simultaneously without any problems.

Flatbed Trucks Prevent Further Vehicle Damage
Compared with other towing methods, flatbed towing ensures that all towed vehicles' wheels are placed onto the tow truck's flat platform to prevent wear and tear. Therefore, when a flatbed tow truck is used, it guarantees that no wear and wear will occur to the towed vehicle's tires or any damage is incurred to the engine parts, transmission, or other systems.
Need a Flatbed Tow Truck?
Flatbed/Rollback Tow Trucks are Safer
Flatbed tow trucks tend to be the safest option available for towing vehicles since it ensures the safety of not only the vehicle that is being transported but also other road users. When a towed vehicle is secured to the tow truck's bed instead of swaying behind a truck as with a hook tow truck, the risk has been significantly reduced.
Flatbed Tow Truck's Save Time
Loading a vehicle onto the rollback tow truck is relatively easy and quick to accomplish with a flatbed tow truck. If the vehicle is in good condition, it just needs to be driven up the flatbed and strapped on for transportation. We utilize a winch for severely damaged vehicles that drivers cannot drive up onto the flatbed, saving time and efficiency.
Flatbed Towing Works Well in Towing Lowered Vehicles
Another benefit of flatbed towing is that vehicle owners can use it for towing lowered cars. Many people would often try to pull in larger vehicles such as mid-sized trucks or even 18-wheelers on their own. However, these vehicles are usually heavy, and if they are pulled by hand, the effort would be more than ten times that of pushing a single trailer behind the truck. For this reason, towing low cars is now made possible with the help of flatbed towing equipment. We can tow your classic or lowered vehicles. just search "flatbed tow truck near me" or "affordable flatbed towing service near me".
Flatbed or Rollback Tow Trucks Are Cost-Effective
Flatbed towing has also gained much popularity because of its cost-effectiveness. Flatbed towing offers a very cheap option compared to traditional towing methods. In addition, it offers high service and professional support that will make sure your vehicle is safe during the whole process. Even with minimal skills and experience, a flatbed towing company can tow very large trailers using their equipment. Furthermore, since they use very little fuel, the overall towing cost is much lower than sling towing methods.
Do You Need a Flatbed Tow Truck in Detroit?
At Motown Towing we have a number of flatbed tow trucks ready and available for your needed tow, and we are just a phone call away! Call our Detroit tow truck company at 313-209-3143.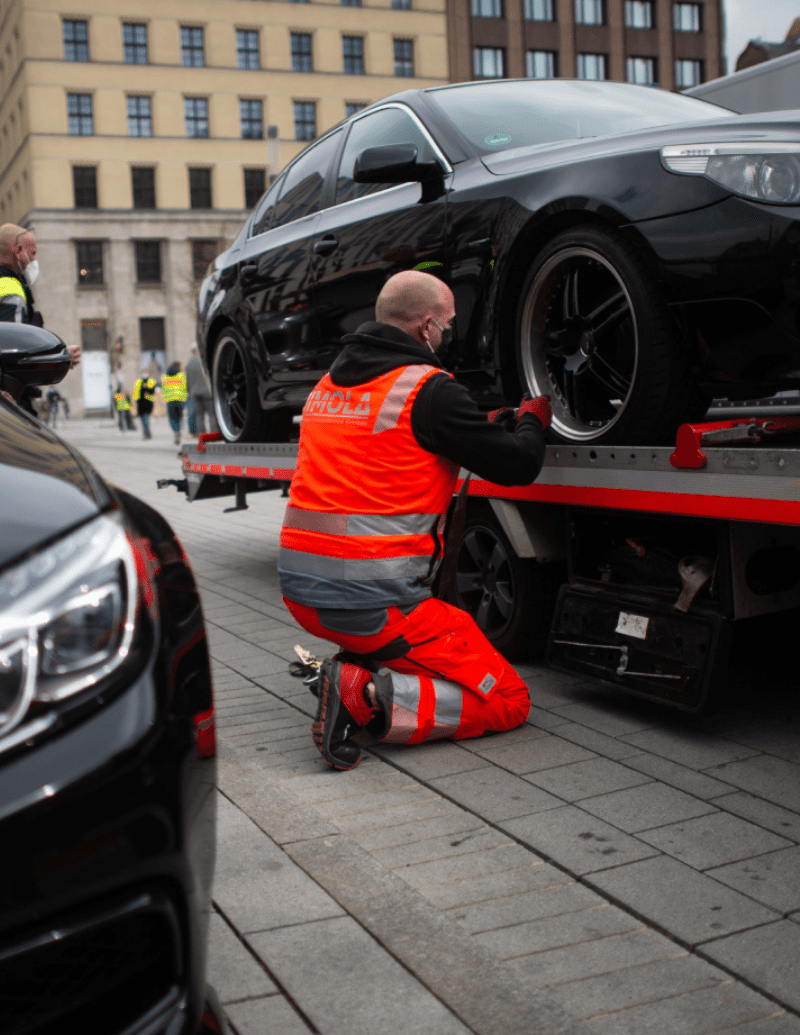 Detroit Flatbed/Rollback Tow Truck Service
Satisfaction Guaranteed