Is it possible to charge a car battery without a charger? Sure you can; you can use another car to jump it off or use a home inverter. But what if you don't have the tools to charge your car battery? If you have a dead battery and need assistance, call Motown Towing at 313-209-3143 for roadside assistance in Detroit. In this article, we will teach you exactly how to charge a car battery without a charger.
The best way to charge a car battery is by using a charger, but there are other methods. Here are the things you will need to charge your car battery without a charger.
Things You Will Need To Charge Your Car Battery
12 volt light bulb

Solder

Multimeter 

Insulated tape

Copper wire

Soldering iron

How to Charge Your Battery
First, you need to find out what the voltage of the battery is. Most car batteries are 12 volts. You need your power supply putting out at least 14 volts and between two and five amps..  
You need a 12 volt light bulb to create this level of resistance from your power source. The battery won't charge properly if you don't use the right amount of resistance.

Use a multimeter or ammeter with your circuit to see what the amps are.

Find a pair of safety gloves and face protection to wear before you get started.

Follow the exact process described below to so you don't overcharge the battery and put yourself in harm's way.
Safety Tips When You Charge Your Car Battery Without a Charger
There is always danger when trying to charge batteries without the proper charging device.
There is a chance the battery could explode if not charged properly. If you don't use a standard car charger, the dead battery could short circuit and explode. The best-case scenario is that the connections are good and the battery cells don't become damaged.

Make sure that you have a fire extinguisher by you during the charging process. When you are dealing with inverters, high voltage, chargers, and a home outlet, fire is always a threat. 

Keep the battery away from anything flammable. If you don't charge the battery in a professional garage, make sure the power supply coming from the wall outlet is away from any flammable materials. 

Charge the battery in an open space with fresh air. With the various methods listed in this article, make sure you charge the batteries in a location where there is fresh air.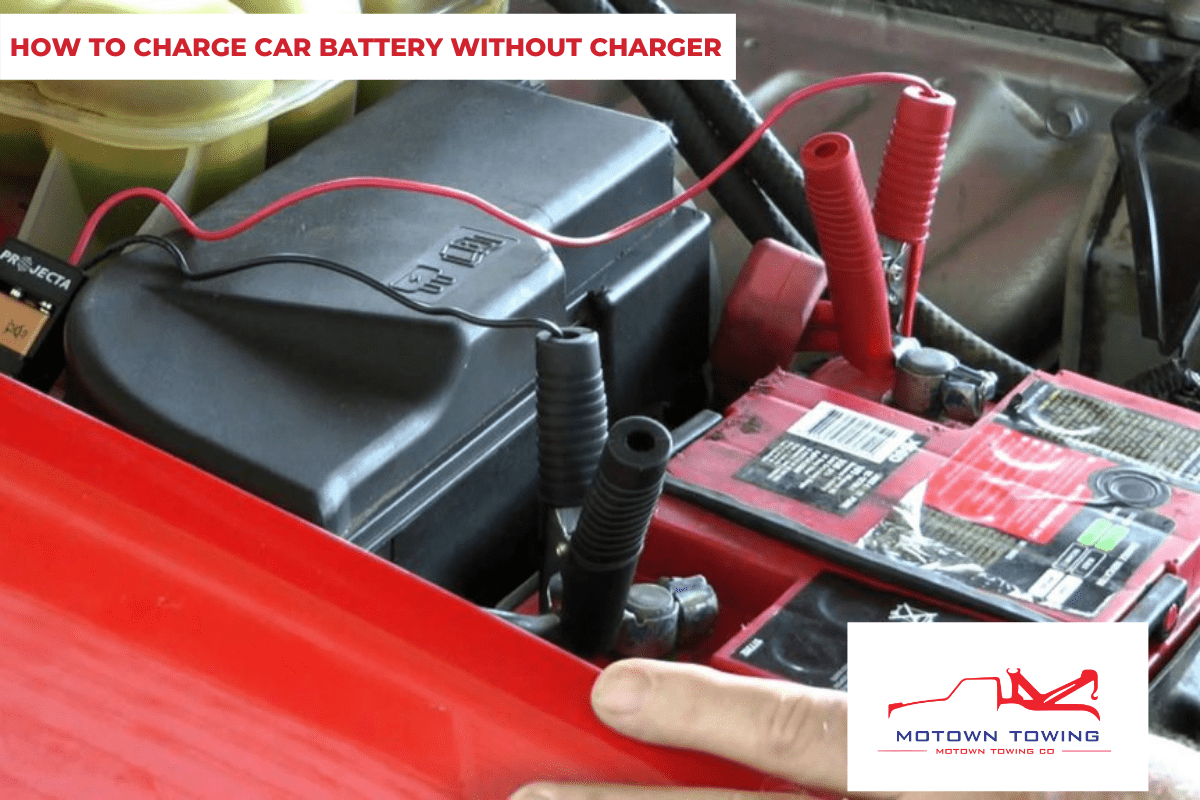 Now Let's Get Started Charging the Battery
Follow the simple instructions below to learn how to charge a car battery without a charger. Make sure you always put safety first when dealing with a car battery. If you can't find a mobile mechanic to do this for you, be careful.
Take the 12v lightbulb and connect the black and red power supply wires from the power source to their matching wires on the lightbulb.

Now connect the black wire from the 12v bulb to the negative terminal on the battery.

Connect the red wire the same way you connected the black wire, except the red wire would go on the positive terminal.

Now, the battery is charging, and it should take about six to eight hours for the battery to charge fully.
Now that you have all the information on charging a car battery without a charger, you need to decide if it's even worth it to go through this process. 
You may find that it's much easier to buy a battery charger or to buy a new battery if your battery is dead. You could also call a tow service that offers emergency roadside assistance to come and charge your battery for you.
Should You Even Try to Charge a Car Battery Without a Charger?
If you find yourself stranded with a dead car battery, you need to call a towing service like Motown Towing. Motown Towing is Detroit's most affordable towing company. We provide the following roadside assistance services: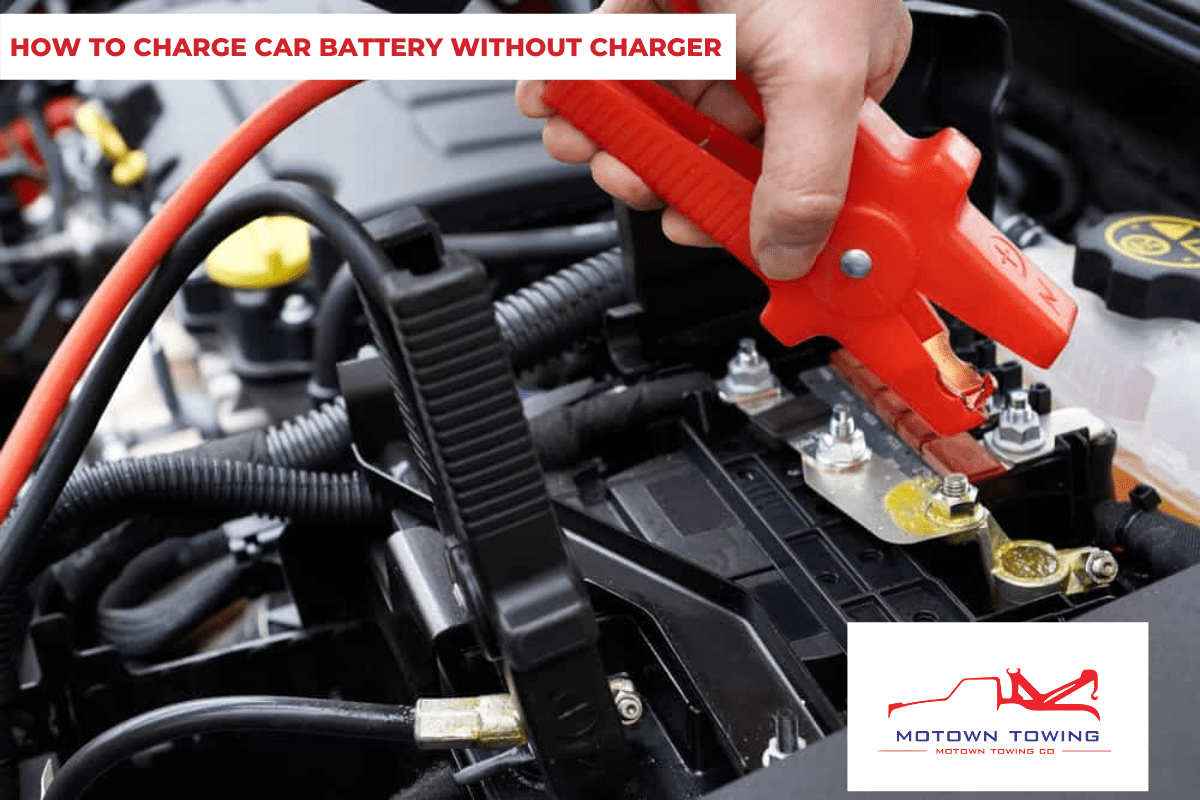 We are the best tow company in Detroit, and we would love to help you out in your emergency towing situation. Call us at 313-209-3143 when you need towing services.